Case Study
Amrit Sandesh
Three decades of true journalism and solid readership !
Team Size
8 People
Designers | Developers | Graphics | Content
About Client
Amrit Sandesh
Industry: Amrit Sandesh
Timeline
30 Days
In weeks or months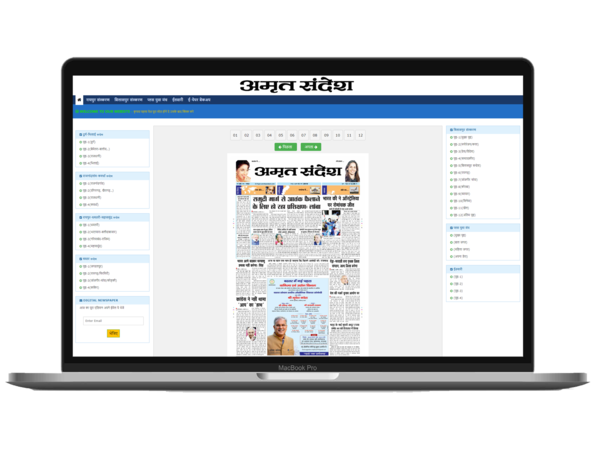 Overview
Three decades of true journalism and solid readership !
Established in 1980's by a renowned journalist Mr. Govindlalji Vora in Raipur, the Amrit Sandesh is a hindi newspaper of Chhattisgarh known for its honest, unbiased and bold news coverage. Due to the technological advancements in mobiles, laptops and internet leading to instant access to the latest news updates, the readership of the Amrit Sandesh decreased drastically. That's where the Sjain came into picture and equipped Amrit Sandesh with technology.
Project
Online News Portal
E-Newspaper
IT Support
Web Application Development
Cross-platform Mobile App Development
Go To Website
Challenges

To retain and enhance the readership of newspaper by providing easy access and latest new updates.
The print media was powerful with wide variations, however as technology advanced, the newspaper group was unable to keep up with it. Hence, the need of getting the complete media (news, videos, images, polls etc) online.
Providing a platform to the readers through which the latest updates and news can accessed anytime & anywhere.
To integrate the whole news portal with website and application which providing the notification feature.
Solutions

Development of online news portal which is updated daily to provide the latest editions of the newspaper to the readers.
Email module integration which helps users to subscribe to the e-newspaper of Amrit Sandesh.
Website was loaded features which enabled the users to search & read the past editions and copies of e-newspaper from the library of the website.
UI/UX of website was designed keeping in mind the ease of navigation throughout the website.
Cross-platform mobile application for news reads and latest updates was developed to empower the readers to stay updated with ongoings of the world.
To troubleshoot any technical or IT related issues, complete IT support was provided.
Powered by the technology and online support from Sjain, Amrit Sandesh launched its online presence and regained its loyal readership through web news-portal and mobile news-application.
Let's get started
Let's talk about your project