Case Study
Frezu
Delivering farm fresh milk to your footsteps !
Team Size
8 People
Designers | Developers | Graphics | Content
About Client
Frezu
Industry: Frezu
Timeline
30 Days
In weeks or months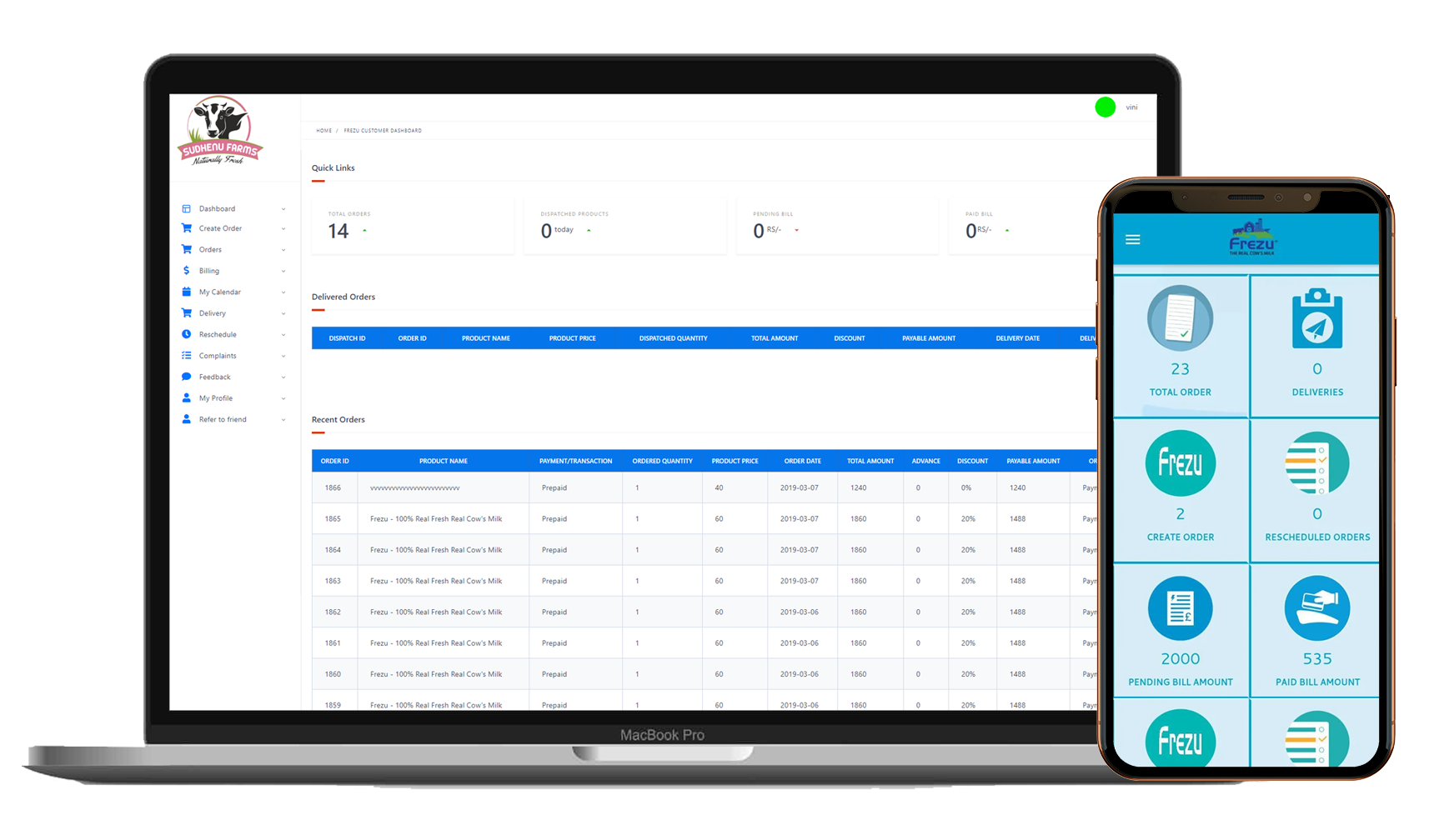 Overview
Delivering farm fresh milk to your footsteps !
Striving as one of the leading dairy consulting company in the southern region of India, Tri Bliss Farm Foods Company envisions to provide fresh, hygienic and unadulterated diary and horticulture products to the populace of non-metro cities of the country. Hence they approached Sjain for technology consultation and IT solution with the aim to provide fresh milk on daily basis.
Project
Website Development
Web App Development
Go To Website
Challenges

To provide the service of daily fresh milk delivery in small town such as Coimbatore.
Maintain quality, hygiene and freshness of milk which is compromised by the local vendors.
Local vendors deliver as per their convenience and hence the need of fixing a constant delivery schedule.
Inconvenience caused due to sudden requirement of milk and inability of local vendor to provide.
Solutions

Appealing and informative website developed to introduce the audience to Frezu and its vision, mission and values.
Web app and mobile app developed with advanced functionalities and real-time features integration.
Based on the user, the app operates differently for customers, salesmen, logistics and promoters.
For the customers, the app enables placing & customizing milk order, selecting delivery time slot, sudden milk requirement fulfillment, cancellation of order and refunding.
For the salesmen, the app technologically empowers by receiving KYC verification from customers, recording & enlisting the orders, generating monthly bills and enabling secure payments.
For the logistics, the app extensively maps out the areas and routes to guarantee the milk delivery within 2 hours, real time update of the delivery.
The app enables the customer to order trial milk as well to be assured about the quality of milk before being a regular customer.
With the highly customized and feature-loaded app developed by the proficient developers of Sjain, Frezu became one of the best milk supplying & delivering chain of Coimbatore. The residents of the town were technologically empowered and hence received farm fresh, enhanced quality milk.
Let's get started
Let's talk about your project